N.B Children must be 12 years + and 4ft 6″ and over to have a go
Contact Ben on 0800 298 6488
Get your pulse racing with a quad biking adventure
Tailored to you...
Tackle the terrain on our brand new Polaris Quad Bikes!
Huge hill climbs, daring downhill descents, slippery side slopes, low traction areas, craters of mud and water, our multi level, multi award winning course has it all!!!
Winner of the Adventure awards best track experience and Prestige awards best 4×4 experience.
Our Quad Biking is VIP so you will have your party will have their own instructor.
Very very pleased with it never been on a track so good and I've been on plenty I really am amazed and the instructor was amazing never let us out his side and constantly looking back to see if we're okay I can't say how amazing that was I am so pleased!!
Quad and Clay Pigeon Shooting
Eva T
Did shooting and quad biking both amazing experiences. Will defiantly be doing this again. Very friendly staff. Andy and Ben were very helpful and informative and made the day worth while.
Amazing Date Idea
Stanley T
Our Most Popular Packages

Shoot 'n' Ride Package
Words can't describe how fun and challenging this package is. An hour's extreme off road Quad biking , entailing the most extreme terrain and pushing you to the limits, suitable for both novices and professionals, followed by an hour's clay pigeon shooting, with expert tuition from the best in the business, it's great for anyone, all we request is that it's a minimum of 2 people.
---
The Triple
Our best package by far, this experience entails an hour of each core activity. You'll experience one of the most extreme off road driving experiences in the country, with you behind the wheel in a Landrover Defender, you'll get a hours thrilling quad bike experience, both experiences set in our challenging 50 acres of purpose built terrain, and last but not least you'll get an hours clay pigeon shooting, everything specifically put together for your enjoyment, the instructors will access your abilities and choose routes appropriate.
All our outdoor experiences are suitable for the following:
Individuals
Groups
Family
Corporate
Stag & Hen Parties
Children
---
Why not add a bacon sandwich on arrival?
Our famous Y.O. Bacon butty will certainly start your day off just right, hand prepared on site made with fresh bacon sourced locally from the butchers in Thirsk. For Larger groups of 4+ we can prepare a freshly sourced BBQ or Hot Buffett, depending on the time of year!
---

Interested to find out more or make a booking? Call us on 01845 537766
Totally Unforgettable Experiences
A variety of off road experiences...
Get your heart racing with a comprehensive introduction to quad biking. Look no further than our special introductory package; here you will learn all the basic skills necessary to take on our specially designed course.
With the same expert instruction as the Challenge package, our intermediate session gives you an extra hour to hone your skills as you take on some of the more testing sections of our mud-soaked course.
Limited to groups of up to 4 people, our VIP package allows individuals or couples to get the attention of a dedicated instructor as they push themselves to the limit on our fast and furious course.
Try your hand at all three of our activities with our ultimate combination package. Giving you the opportunity to try 4x4 off-roading, quad biking and clay pigeon shooting in one session, this is perfect for thrill-seekers and amateurs alike.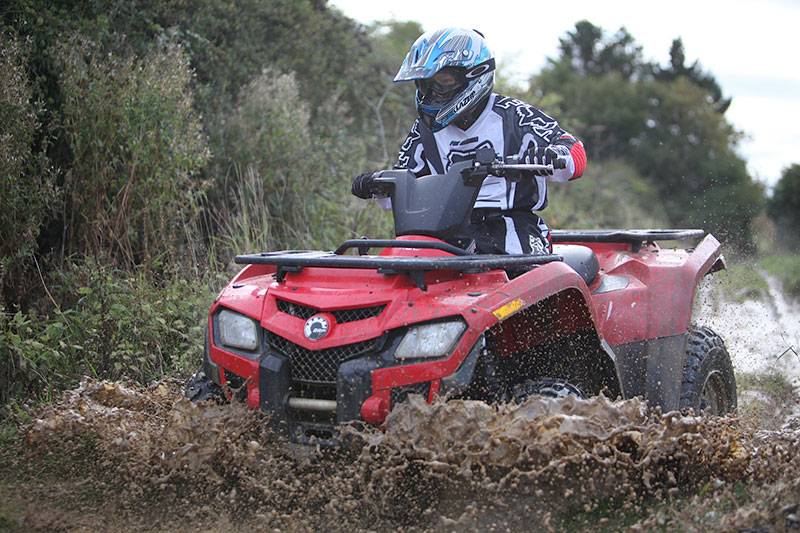 Groups of 2 or more can get great value for money and an intoxicating day out with our shoot 'n' ride packages. Get the excitement of quad biking and the stimulating challenge of clay shooting together in one.
Want to know more or think you're ready to book or purchase a voucher?
There's so many ways to get in touch. You can call us on 01845 537766, message us on live chat, email us at sales@yorkshire-outdoors.co.uk or simply fill out the form below!
Request a Booking
Fill out your details so we may quote you a price...